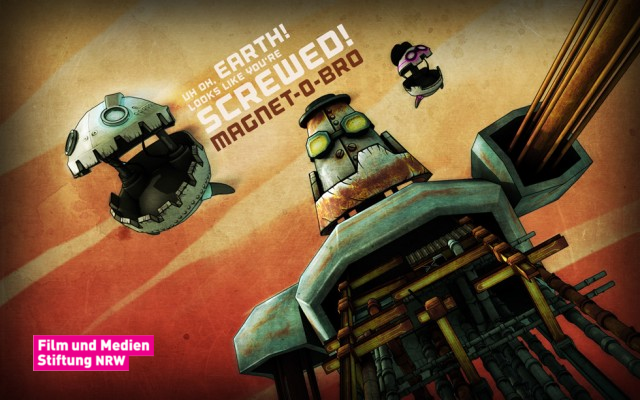 Magnet-O-Bro is our main in-development project. It's a 2.5D platformer featuring racing game elements and fast-paced gameplay. Players control small, spherical robots to climb a giant robot. Their target is to reach the control-unit in the head of the robot to regain access.
The gameplay is fast paced with deviant, crude humor and a strong focus on multiplayer action. The players can choose to help each other or fight each other within the game.
Follow its development in our blog.
---
MAGNETOID HD is a further development from MAGNETOID prepared for HD TV screens and landscape mode. It is a complete overhaul of the original MAGNETOID including a 2 player co-op mode.

Magnetoid started as a Room 247 Studio internal Gamejam. We wanted to test our workflow and our new team before starting our big project with the code-name "Magnet-O-Bro". We didn't plan a result out of this jam but after 2 Weeks we had a nice working Prototype which was actually fun to play. Volker, one of our graphic artists, was really hooked and couldn't stop playing. In the third week we decided to go the full length and work on this game until we have a stable release build. It is our first project as an Indie Developer Team and a present for the mobile gamer. It is not perfect and we already have a ton of ideas to improve it. But since our big game MAGNET-O-BRO is now getting more attention, we need to see when we can take care about little Magnetoid. Maybe SUPER Magnetoid is something for the future…
---
Side projects
Theseus is an experimental game done with friends at the Global Game Jam 2014. The theme was "We don't see things as they are, we see them as we are."
If everybody sees the world differently how can people agree on something? How can we get somebody to see the world as we see it? Basically through communication. It's the key element in this cooperative game for two players.
---
The game is a result of Guido Göbbels bachelor Thesis done in 2013. It is a mix of adventure and action – combined with horror and shock elements. It modernizes the classic, revised gameplay elements of the old game and adds new ones. It links the tension of "Slender – the eight pages", the mystery of "Myst" and a little "Heavy Rain."
---